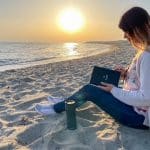 Adeline DELAPORTE, XL-Chem international PhD student
1 – Can you tell us more about your PhD thesis; what is its theme, is it part of an international collaboration?
My thesis is about the encapsulation of cosmetic actives for application on the skin. It takes place with two partner universities: the Aristotle University of Thessaloniki in Greece and the University of Medicine and Pharmacy of Târgu Mureș in Romania
2 – Do you think that preparing a thesis in the framework of this international collaboration represents an advantage over a more traditional thesis? Do you think it will be a plus on your CV?
These international collaborations are a real plus for my professional and personal experience. In my case, they allow me to develop new skills useful to my thesis, to enrich my current knowledge but also to exchange on the different experiences of each one.
3 – Did you appreciate the mobility grants offered by the XL-Chem program? Did they allow you to go abroad for 18 months with more serenity?
Of course, I appreciated the mobility grants offered by the XL-Chem program, but unfortunately they did not allow me to go abroad with peace of mind, as the grants did not allow me to finance an accommodation.
4 – What is your professional project at the end of your thesis? If you had to go back, would you make the same choices in your studies?
At the end of my thesis I would like to stay in the research field as a teacher-researcher or research engineer. I think that if I had to go back, I would make the same choices in my studies because, even if my career path is a bit atypical, it has allowed me to clearly identify my professional project and to have the necessary skills to carry out my thesis in good conditions.