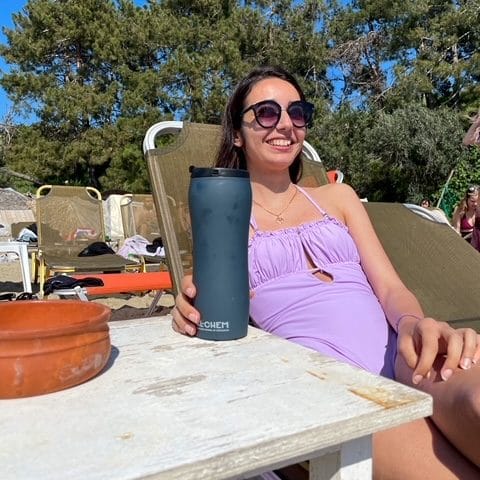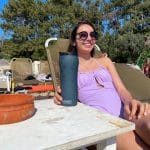 Alexandra FERRE, Master 2 XL-Chem 2021/2022 – In mobility in Thessaloniki, GREECE
Why did you choose the XL-Chem course?
I have always been interested in the field of cosmetics – especially R&D – with a rather international dimension. The possibility of taking chemistry courses specialized in cosmetics, the internship abroad, the regular practice of English as well as the possibility of exploring the world of research and the various management disciplines with which I was unfamiliar, guided my choice towards the XL-Chem course.
What do you think are the advantages of this course compared to a more traditional course? What do you think of being able to choose your courses "à la carte" according to your professional objective?
It can first of all help to determine which type of sector (industry or research) you want to move into after having explored the different approaches in depth. Moreover, the support of the mentor allows you to have personalized feedback and to evolve very quickly.
As for the à la carte courses, they allow different profiles to follow the program according to their professional ambitions or to explore different possibilities. For my part, I chose all my courses in the Master ARPAC (Aromas, Perfumes and Cosmetics) in Le Havre because I was certain that they were the ones that interested me. However, you have to be careful because it can happen that some management courses overlap with the selected chemistry courses, in which case you have to organize yourself to catch up.
What did you think of the management certification offered in this chemistry program? Did you appreciate the multidisciplinary aspect of this training and do you think that it will represent a plus on your CV?
The management certification allows you to discover numerous disciplines thanks to speakers who are experts in their fields and to develop knowledge that can be useful in an industrial environment (finance, BtoB marketing, international trade, project management, etc.). I think that this training can indeed be a plus on the CV compared to other more "classic" courses.
What do you retain from the laboratory immersion that you experience, particularly in the context of your self-learning guided by your mentor, your internships and your Master 2 internship abroad? Do you appreciate this international dimension of XL-Chem and what does it bring you?
The immersion in the laboratory allowed me to learn how to manage projects with the support of my mentor, to carry out bibliographical research but also to manipulate more autonomously by formulating and applying various analysis techniques. About the internship abroad, which I am currently living as I write, it is very enriching from a professional point of view and allows me to learn a lot but it is especially from a personal point of view that the change is important. This stay changes my perception of life thanks to the exchanges with the different cultures I have the chance to meet and brings me a lot in terms of adaptability, English practice, experiences and discoveries. Having a rather reserved temperament, it also allows me to surpass myself and to go more easily towards others.
What are your plans after your Master 2? Do you plan to pursue a thesis, particularly within the framework of the XL-Chem GSR? If you had to go back, would you make the same choices in your studies?
At the end of this master's degree I plan to work in the cosmetics industry, preferably in R&D. If I had to go back, I would make the same study choices but I would do one of my two master's internships in industry and not in a university laboratory in order to have an experience, which I think is important.
Would you recommend XL-Chem to chemistry Bachelor students?
Yes, I would recommend XL-Chem to undergraduate students interested in research who want to explore several fields and have personalized guidance. However, it should be noted that the level required can sometimes be high and you have to be careful not to lose your footing. You also have to be ready to face the different organizational problems that come from the fact that the master is very recent and is therefore still in a phase of improvement.