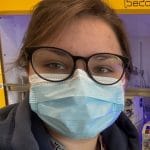 Charlotte NOEL, Master 2 XL-Chem 2021/2022 – In mobility in Montreal, CANADA
1- Why did you choose the XL-Chem course?
I discovered the XL-Chem program by chance. Initially, I had applied for the master's degree in Chemistry at the University of Rouen Normandy. Finally, when I discovered the XL-Chem program with its "à la carte" courses, its management program but especially its self-training part, I was immediately won over.
2- What do you think are the advantages of this course compared to a more traditional course? What do you think of being able to choose your courses "à la carte" according to your professional objective?
I think that in France, we lack a lot of this practical dimension during the master's degree, compared to the courses that we can find in North America. There is also a big lack, from a managerial point of view. The fact that you can choose your courses is a big advantage because we don't all have the same background and it's important to have the most complete training as possible. In the professional field, it's essential to have your own area of expertise and to excel in it. It is even more crucial to have a broad area of expertise, to be able to interact with scientists from other sectors. The XL-Chem course allows us to complement our area of expertise, so that we can interact with experts in all fields and be comfortable in the professional world.
3- What did you think of the management certification offered in this chemistry program? Did you appreciate the multidisciplinary aspect of this training and do you think that it will represent a plus on your CV?
Clearly, this management aspect is quite important when you are in the world of work because it allows you to have, at first, an understanding of everything that surrounds you, of work relations, of the financial aspect that you don't always see in the scientific field. It is clear that management skills are a positive point in a CV; being able to manage a team, show leadership, or even understand the financial aspects to manage a large budget, are essential assets that are taken into account when hiring.
4- What do you retain from the laboratory immersion that you experience, particularly in the context of your self-learning guided by your mentor, your internships and your Master 2 internship abroad? Do you appreciate this international dimension of XL-Chem and what does it bring you?
Before this immersion in the laboratory, I had not had the opportunity to do an internship and to be in contact with the world of research because of the pandemic. This immersion brought me an incredible field of competences, which cannot be apprehended otherwise. It allowed me to see what the world of academic research is like, but also to get a taste of what an academic thesis is like. Being in direct contact with our mentor is really essential, to guide us in self-learning, whether it is in the research project or in the reports to be written.
The international dimension of the training is a big plus, because in the career of a chemist, it is important to know the different types of research functioning. That is to say, depending on where you are, a research laboratory will not function in the same way. The dynamics of the group can also change.
5- What are your plans after your Master 2? Do you plan to pursue a thesis, particularly within the framework of the XL-Chem GSR? If you had to go back, would you make the same choices in your studies?
It so happens that before starting the Master's program, I wasn't sure what I wanted to do after this training: enter the working world or continue with a thesis. After this immersion in the laboratory during the last two years, it is certain that I want to continue with a thesis. I was so pleased with the work environment with my mentor, but also with the supervisor of my M2 internship, that I will continue in a joint-supervision thesis with both of them, in the framework of the XL-Chem GSR. A good relationship with your supervisors is essential. These last two years have been so enriching in terms of knowledge, both scientific and managerial, human development, but also personal development that I would make the same choices from the beginning.
6- Would you recommend XL-Chem to chemistry Bachelor students?
The XL-Chem master is really a training which deserves to be talked about more, by its originality but also by the whole of its training. A student of Bachelor in chemistry motivated and eager to learn can only dream to integrate this training. It is obvious that I recommend the XL-Chem master to chemistry Bachelor students.